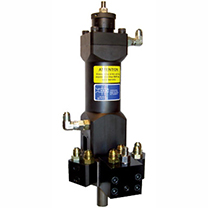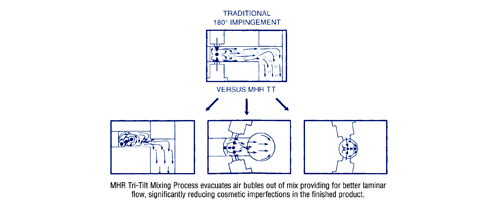 New Sales & Repair
2 Stream
3 Stream
4 Stream
Tri-Tilt Mix Heads
MHR's patented Tri-Tilt Mix Heads achieve superior mix results through non-linear non-coplanar impingement. The MHR Tri-Tilt mixing process eliminates air bubbles drastically improving the laminar flow and the quality of your finished product.
We Repair Any Make and Model of Mix Heads or Chemical Valves. Ask about our 3 Day Repair!
Description
Sizing a New Head
Specifications
Tri-Tilt Mix Heads
MHR's Tri-Tilt Mix Head provides an improved chemical mixing action for the Polyurethane/Foam industry. Development of the Tri-Tilt Mix Head was done utilizing Computational Fluid Dynamics Technology. The computerized simulation of material flow through the orifices at high pressure and various tilted positions has allowed MHR's Tri-Tilt Mix Head to achieve nearly perfect mix in the mix chamber and as the material flows from nose nozzle into the mold. It was determined that these superior mix results could be accomplished through non-linear and non-coplanar impingement
occurring along 3 independent axises.
The net result for the molding operation that uses MHR's Tri-Tilt Impingement Mix Heads is a highly improved, consistent, well-mixed laminar flow output with a consistent cellular structure throughout the finished product.
MHR's customers find significant improvement in their difficult-to-mold parts; we expect the same for your operation.
Mix Head Sizing Chart
MINIMUM THROUGH PUT
MAXIMUM THROUGH PUT
MODEL
SIZE/INCHES
WT. (LBS)
OPEN & CLOSED MOLD
OPEN MOLD LAMINAR FLOW
CLOSED MOLD
A (Height)
B (Width)
C (Length)
1:1 RATIO
2:1 RATIO
1:1 RATIO
2:1 RATIO
1:1 RATIO
2:1 RATIO
ADJ. STOKE MAX % CLOSE OFF
MHR TT 8/12
6.13
5.62
14.88
19
60 g/s
90 g/s
340 g/s
255 g/s
420 g/s
315 g/s
60%
MHR TT 10/14
6.91
7.48
16.85
35
100 g/s
135 g/s
460 g/s
345 g/s
1000 g/s
750 g/s
60%
MHR TT 12/18
7.29
7.71
19.03
44
160 g/s
240 g/s
760 g/s
570 g/s
2000 g/s
1500 g/s
60%
MHR TT 16/25
8.62
7.71
21.80
80
245 g/s
360 g/s
1460 g/s
1115 g/s
2270 g/s
1690 g/s
60%
Standard Features:
Triple shaft seal and scraper bushing on clean-out rod *
Long-wearing clean-out and pour rods
Adjustable clean-out stroke for better mix control *
PFTE, VITON and other seal materials compatible with MPI, TDI, and corrosive
blowing agents
2 proximity switches * – PNP 3-wired D.C. current, normally open
Orifice sizes: 0.5MM through 4.2 MM. Your specific sizes supplied with mix head
Chemical and hydraulic ports: SAE straight thread 'O' ring fittings with JCI 37°
flared ends. Your specific sizes supplied with mix head
Clean-out hydraulics separated from chemicals with one piece cylinder extension
with windows
Third stream color port (optional) for dosing system or recirculation system *
MHR TRI Mix Heads can be customized to meet your requirements including custom
seals
* Features exclusive to Patented Tri-Tilt Mix Heads
Testimonials
"We have been using the MHR engineered prototype for the last 12 weeks and it works great. You solved our sticking issues and increased our production up time. You guys knocked it out of the park on the first try!"
M.B. medical device
"Tomorrow is my last day with my company. I am a few months short of 38 years. I wanted to thank the MHR team for all you have done for me. My job has been very difficult at times and having a vendor partner like MHR has been a Godsend. I hope the close relationship I have had with MHR will continue with my replacement. Thank you all very much and may God bless you all."
B.A. refrigeration
"We have decided to make MHR our sole provider for: pumps, heads and all repairs on the foam lines. You guys have incredible turn times and service. When the time comes for new foam lines we're coming to you first."
D.B. automotive